Bed bugs are small insects that hide in the dark and feed on human blood. If you need pest control in Albany, call Kanga Pest Control for all of your bed bug control needs. We're a professional pest control company with technicians who have the experience needed to treat bed bugs. Read on to find out more about the signs and risks of bed bugs.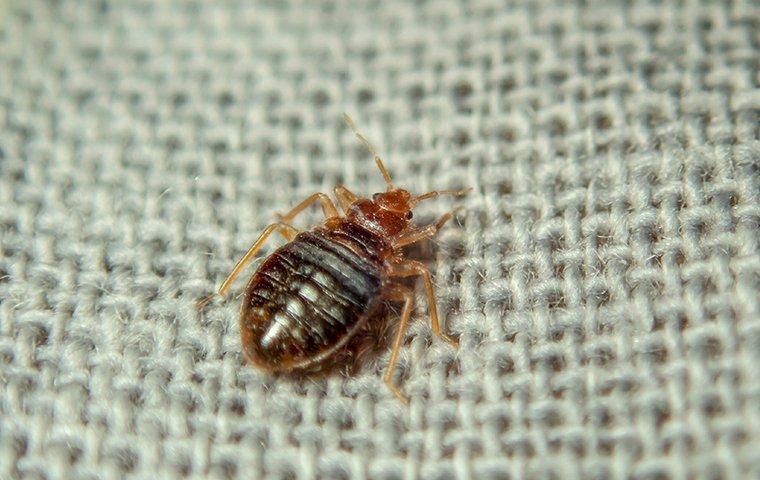 How Can I Tell If It's Bed Bugs In My Home?
Some Albany homeowners may be unsure as to whether there are bed bugs in their homes. After all, bed bugs are tiny insects that can be very hard to find. Fully fed, they are about the size of an apple seed. Additionally, they almost never come out of hiding unless they are going to feed on human blood, which is usually late at night.
Some bed bug signs that can help determine whether you have bed bugs in your home include:
Pale-colored bed bug eggshells
Bed bug eggs
Bed bug bites, often in a line or grouping
Reddish-brown dots on furniture, ceilings, walls, beds, nightstands, and clothing
Black specks on bedding
Small drops of blood on bedding
If you suspect that there are bed bugs in your Albany home, get in touch with our team at Kanga Pest Control as soon as possible to avoid an infestation. We provide the most effective bed bug pest control near you!
How Dangerous Is It To Have Bed Bugs In My House?
Bed bugs are not necessarily considered dangerous, but they are considered to be a nuisance. For one thing, bed bugs will cover your bedroom and the rest of your house with rusty-colored spots. They can also dirty your home by leaving eggs, exoskeletons, eggshells, and feces on your walls, mattresses, furnishings, ceilings, and apparel.
Bed bugs are also notorious for causing skin problems, leaving the humans they feed on with welts, rashes, and bites. These skin problems can lead to extreme itchiness which, in turn, can make it more difficult to sleep well, increase your chance of developing an allergic reaction, and increase your chance of skin infection.
If you believe you're dealing with a bed bug infestation, you'll need to contact the professionals at Kanga Pest Control for local pest control for bed bugs.
Why Do I Have Bed Bugs In My House?
You most likely have bed bugs in your home as a result of traveling or being in public spaces. Bed bugs are often found in places where large numbers of people gather, but they often go undetected. They then hitchhike a ride back to your home while climbing onto your clothing, purse, or suitcase.
To prevent bed bugs from catching a ride into your home, check your hotel room or other lodgings before you lay down on the bed. First, try to see if you can smell a sweet or musty odor. Then, check the bed and all upholstered furniture for any of the aforementioned bed bug signs.
If you are worried that you already picked up bed bugs, examine all items that you bring home, including any suitcases, clothing, purses, or luggage for signs of bed bugs. If you still believe that you've picked up bed bugs, wash all of your clothes in hot water and dry them while using the hot setting. If you cannot fit some items in the washing machine, tightly seal them in a garbage bag, and then leave the bag shut in an excessively cold or hot place for a couple of months. Additionally, the National Pest Management Association states that cleaning luggage with a garment steamer can kill bed bugs and their eggs.
You're unlikely to be able to eradicate an infestation with natural pest control for bed bugs. The most reliable way to remove and prevent bed bugs is to leave the work to the professionals.
What's The Best Way To Get Rid Of Bed Bugs In My House?
The most effective way to get rid of bed bugs in your Albany house is to call our expert team at Kanga Pest Control. Among all the other bed bug control companies near you, Kanga Pest Control is proudly family-owned and operated. We are also licensed and insured, and give veterans an initial 10% discount. With roots in Australia that were brought over to Oregon, Kanga Pest Control knows how to deal with bed bugs anywhere around the world. Call us for a quote today and see how happy we'll be to help you!