Most people are afraid of spiders for many different reasons, primarily due to how they look and the threat of being attacked. However, more often than not, spiders are harmless in that they don't attack unless provoked. No matter what kind of spider finds its way into your Portland home, you don't have to put up with it.
Our team can let you in on all the ways to kill spiders and keep them out of your Portland home. We at Kanga Pest Control are the Portland pest control company you need. Don't let your home become overrun by spiders when there is a solution, a phone call away.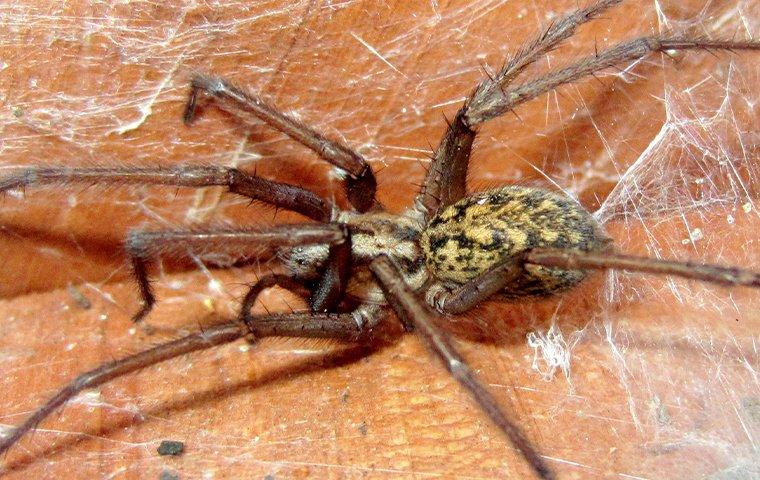 Types Of Spiders In Portland
Do you know how many types of spiders are in the world? Out of context, thinking about all 43,000 different species can be a terrifying thought. However, for the most part, you'll only ever find a few types of small spiders in your house. Here are some common household spiders:
Orb-weaver spiders
Running crab spiders
Mouse spider
Hobo spiders
Giant house spider
Wolf spider
Aside from the giant house spider, which can grow up to 3 inches, you'll find that most of these arachnids are relatively small. You'll also find that these types of small spiders will pose no real physical threat to you. They will find their way into your home through a minor crack or crevice around your home.
Why Spiders Invade Homes
Since most spiders prefer to live outside, it can be odd that some spiders take up residence under your roof. The fact that there are common household spiders proves that certain spiders will often go indoors enough to be noticed and categorized. Spiders will seek out the inside of your home for many of the same motivations that other insects would, such as food and shelter.
Many spiders come inside because other bugs, their food source, come inside, too. Spiders also enjoy dry and dark locations to hide during the day since many are nocturnal. There are locations all-around a home that will satisfy this need for protection; thus, spiders will thrive and multiply within your home if not stopped.
Common Places To Find Spiders
Do you know where to look when trying to rid your home of spiders? Outside, you can find them roaming around in your tall grass easily, but it's not always apparent when it comes to the indoors. Their nesting locations are hard to find or go undisturbed is why they have picked such a location. Here are a few top spots to find spiders in your home:
Attics
Basements
Bathroom cabinets
Kitchen cabinets
Closets
Pantries
Garages
You can also find spiders under furniture or hiding in thick carpets. These places are ideal for spiders, and you should stay alert when around these areas. If you think you're seeing more spiders than you'd like in your home, then give us a call.
How To Get Rid Of Spiders
The hands-down best way to deal with being afraid of spiders is to have a team like ours eradicate your problem. At Kanga Pest Control, we have many different ways to kill spiders, and with our experience, we are a dependable team. We've worked hard to establish ourselves as your local go-to for all your pest control needs. At Kanga Pest Control, you won't find a more affordable and friendly team to create the perfect pest plan for your home.
Our team at Kanga Pest Control never cuts corners when it comes to providing you a pest-free guarantee, and we use only the best of products to ensure results. No matter what types of spiders invade your home, we can handle it and put your home back in order. Give us a call today, and if you find a better price than our competitors, we'll beat it!