It's very easy for ants to find their way into your home in Salem. There are millions of ants in the world so finding them inside is almost inevitable. They crawl around your kitchen and contaminate your food, and in some cases, they can destroy your Salem home.
You can defend your home with a few outdoor ant control steps, or you can enlist the help of a professional Salem pest control company for long-lasting solutions. Ants can be a headache, but they don't have to be a constant problem when you know what to do.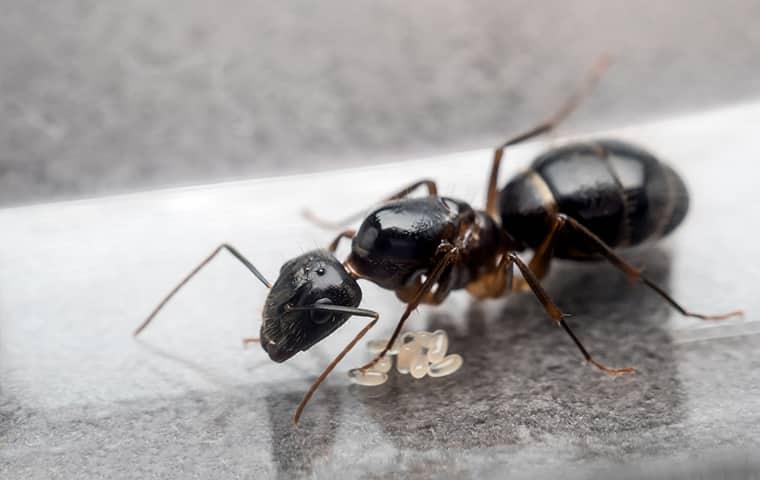 The Life Cycle Of Common Ants
An ant's life cycle is relatively simple and consists of four stages. Ants go from eggs to larvae, then pupae, which emerge as a fully functional members of the colony. These ants will become either a worker, drone, or queen in a process that typically lasts around 60 days. A queen ant can lay upwards of three hundred thousand eggs in a day.
Given the number of eggs a queen can lay in a single day, you'll want to know how to get rid of ants when they show up. Otherwise, these colonies can easily turn their sights on the inside of your home as a source of food and shelter.
The Problems Ants Can Cause In A Home
As a homeowner, you might think that ants are only a problem outside your home. Ants can be a nuisance around your yard, yes, but they can cause more home damage than you think. Much like termites, certain types of ants can destroy the integrity of the wood within your walls. This kind of damage can result in your home becoming structurally compromised and needing repairs.
If this kind of damage goes unchecked, your home could eventually fall apart or catch on fire. You should also consider the potential health risks that ants can bring into your home. Ants love food and can get into the food in your home with little problem. This can lead to your food and prep area becoming contaminated. All of which can lead to your family falling ill because of these invading ants.
Why It Is So Hard To Get Rid Of Ants On Your Own
Do you want to know how to get rid of ants in the house? It's difficult but not an impossible feat when you know where to start. When you understand why ants are hard to be rid of, you can combat your home against them. Here are a few reasons why ants are difficult to eliminate:
There can be over 500,000 ants in a single colony.
Many DIY pesticides are not as effective as you might think and thus do not work.
Colonies can be built in hard-to-reach places, such as walls, cracks, and under flooring.
Ants can relocate if they believe their colony is under any threat.
Considering all of this, you can better assess how you need to approach any DIY treatment. However, you'll still find that when you want a quick solution for ant control in Salem, you need a professional team's aid.
Contact Kanga Pest At The First Sign Of Ants In Your Home
Ant can cause a whole slew of trouble around your home and shouldn't go unchecked. When you want the best pest control for ants, reach out to us at Kanga Pest Control. We provide in-depth and expansive pest control options so we can get to the root of your problem and eliminate it.
Our origins at Kanga Pest Control might have started in Australia, but the Oregon area is our home, and we strive every day to help our community against their war on pests. When you want a knowledgeable team with a passion unmatched by anyone else for what they do, then we are the only team for you. At Kanga Pest Control, you can always depend on the ant control solutions we implement to protect your home best, so call today.